Company Updates
OneMarketData
2020 was a time of extraordinarily challenging health, economic and market conditions. The volatility of the market reached new highs, driven by uncertainty from the pandemic and the U.S. election.
Despite all of these challenges, 2020 was a period of substantial technical progress and customer success for the OneTick team. Prioritizing the ever-changing, growing, and unique customer needs kept our company very busy. We worked diligently to expand our range of products and services with the goal of serving as your long-term partner.
Looking forward to the rest of 2021!
In 2020 we booked a record number of new clients subscribing to our OneTick platform and expanded business with many long standing customers. From the US to the UK, Central Europe, Australia, China and Japan we added new clients. Business came from both sell-side and buy-side firms, with a growing number of quant and prop trading firms selecting OneTick to avoid the costs of building out their own market data platforms.
New customers included a member of the FAANG group, one of the world's largest commodity firms, several sovereign wealth funds, one of the oldest asset managers in the world, a leading Information provider, one of the largest asset managers, large Canadian banks, several prop trading firms in Australia, a substantial deal with one of the largest U.S. high frequency trading firms and one of the largest equity exchanges. While many of these cannot be publicly disclosed, we had several customers announce their selection publicly.

We were delighted to be recognized by A-Team in Trading Tech Insight Europe Awards 2021 for the Best Tick Data Management Platform. It is always an honor to be recognized.

OneTick was also recognized at the A-Team Innovation Awards in 2021 for the Most Innovative Trade Surveillance Solution.

Last, but not least, we were delighted to be recognized by A-Team in Trade Tech Insight USA Awards 2020 for the Best Transaction Cost Analysis Tool. We also had several product and public customer announcements this past year:
OneMarketData Launches European Composite Trade and Quote (ECTQ) Database to Support Specific Demands of Transaction Cost Analysis
Independent Trading Group (ITG) Selects OneTick Trade Surveillance
OneTick Surveillance Service selected by Institutional Brokerage Novum Securities
It is always great for employees and existing customers to see customer announcements, so thank you to ITG and Novum for your additional public support.
We had added many technical enhancements with the intent of increasing performance, connectivity and stability in 2020. Of particular note are newly added supports for usage-based licensing, integrations with Solace, and multicast collectors for OPRA, CTA and UTP. OneTick's team responded to the demonstrated need of customers searching for the unique and useful functionality of an HTTP output adapter for Grafana for observability dashboards. We also received high interest in the Kafka collector which supports both XML and JSON formats. Finally, in security, we updated all of OneTick Window binaries with signed security certificates. We truly had a busy year, and I am proud of our engineering accomplishments.
Market Drivers for OneTick
Market data rates increased significantly in 2020, spiking from event driven volatility leading to higher message rates and storage requirements. The chart below plots October 2019 to December 2020 against the file size for level one U.S. equity markets. The peak increased nearly five times from the previous 90-day period.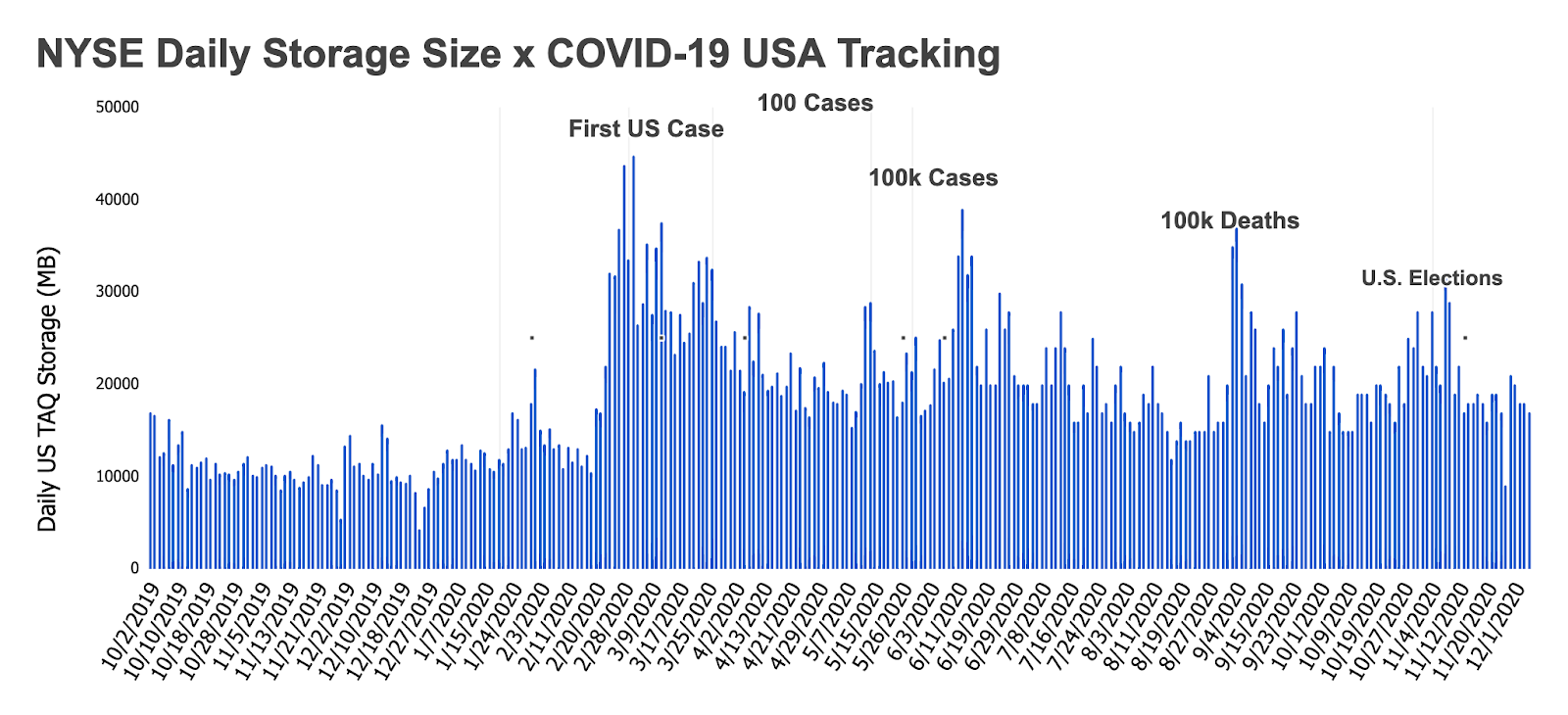 These new levels of volatility require higher scalability and elasticity from Data as a Service providers. It's therefore no surprise that we saw increased interest in our flexible cloud licensing and usage-based pricing model.
In a poll conducted during our Transitioning to the Cloud Webinar, scalability and elasticity were shown to be the most common reason why companies are considering a transition to the Cloud, which matches our first hand customer experiences. Learn more about the poll results and their implications from our most recent webinar.
What are the main reasons you're considering a transition to the Cloud?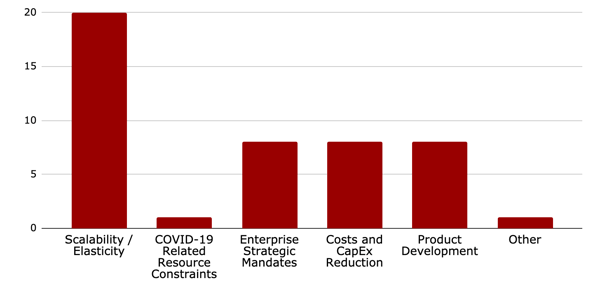 OneMarketData has worked to expand and enhance its offerings, including for on-demand and Cloud. Here are some of the 2020 highlights that the OMD team is proud to share:
Scalability
Our customers include some of the largest traders in the word, and the world's largest market center group. With a massive and ever-growing volume of data, we have worked to make the OneTick offering scalable for the largest firms.

Flexibility
Customers can add alert types using two quant-friendly, high-level paradigms to create customizable metrics and/or filters.
Completeness
Includes an extensive library of out-of-the-box alert types covering multiple regulatory regimes.
Sophistication
Includes case-management, trader and client profiling, development tools, Cloud integration, data collection, and more.
Integrations
The largest collection of out-of-the-box integrations and integration frameworks for easy implementation.
Ease-of-Use
Customers can use a sandbox to tune and create alert types. They also enjoy advanced visualizations combined with one-click resolution, and an intuitive and interactive dashboard for drilling down into executions.
Reporting
Usage reporting metrics were added as well as the ability to configure and generate automated CSV or PDF reports that can be white-labeled reports to share with customers.
New Products and Services
- Launch of Real Time OneTick Cloud platform for US Equities and Futures
- Expansion of Data Content including trading venues.
- Full coverage of global equities and futures. Benchmarks against NBBO or EBBO. US options and FX also available.
- Transition Services from Co-Location to AWS
- Development of Entitlement Management Portal
OneTick hosted multiple webinars this year and is excited to further knowledge and research as a financial technology industry leader. If you're looking to get up-to-date with the latest research, technology, and industry trends, the OneTick webinars are the place to start. Here is a sample from 2020:
OMD 2020 KEY TECHNICAL PROGRESS
MAJOR ENHANCEMENTS
Kafka Collector (supporting both XML and JSON formats) with Apache Avro, Google Protobuf and SBE data reader implementation.
OneTick integration with Solace
OneTick now comes with the HTTP output adapter for Grafana
OneTick introduced a data loader for JSON
Support for usage-based licensing
Support for multicast collectors for OPRA, CTA and UTP data
All OneTick Windows binaries are now signed with a security certificate
Online training platform, OneTick Academy, soon to become available for all customers
MORE ENHANCEMENTS
Data loading over Web API
OneTick Dashboards added Heatmap, Sound and Web Browser widgets
Support for Azure OpenID authentication
Support for pico-second timestamp granularity
Improved performance of OneTick ODBC driver
Added support for Python 3.8
PERFORMANCE, STABILITY, AND MAINTENANCE
Optimized the PRESORT EP to spread work more evenly across multiple threads in CEP queries
Stability improvement: tick server can use child processes, rather than threads, to handle queries arriving from client apps
Rawdb CEP adapter supports multi-threading
CEP adapter supports delaying ticks (to implement delayed CEP data)
CEP adapter supports an out-of-order tick-handling policy
Tick server can execute initialization queries upon start-up
Support for comma-separated archive locations to improve archive data maintenance
Added support of relative time ranges for db start/end times in the locator (-10D, -6M, -2Y)
ONETICK QUERY LANGUAGE
An automatic way to add common query properties to each executed query (for example, for the EMRS authentication)
Added _TICK_TYPE and _DBNAME pseudo-fields to be used in the query language expressions
Added support for forward time shifts and forward indexed tick lookups in PER_TICK_SCRIPT EP
Added WRITE_TO_SMTP EP for sending out email alerts
Added support for Cox-Ross-Rubinstein option pricing model to the OPTION_PRICE EP
Added SHOW_OT_ENTITLEMENTS EP for easier maintenance
Added START_QUERY_ON_SERVER EP for remote query execution
MULTI_PORTOLIO_PRICE and PORTFOLIO_PRICE EPs support input time series that provide FX data
DASHBOARDS
Support Donut view as an option in Pie Chart
Added support for the animated images
Support charts with two panes with synchronized X axis
Persist value of an input widget (dropdown, etc) in a dashboard user profile
Support user color profiles for charts and grids
Add permissions for access to individual dashboards to ACL
Reconnect after websocket disconnect without reloading the web dashboard
SECURITY
Add support for

TLS 1.3

security protocol for the communication between tick server and client
All communications between client and tick server can be encrypted
Need to add support for multiple tenants in Azure Active Directory OpenID authentication
Tick server supports both HTTPS and HTTP protocols
Tick server can prioritize queries based on the user or role
Access control applies to CEP queries
MISC
Added per-node memory consumption report in Profiler in the Query Designer
Python functions generated by otq_to_py_converter.exe should accept OTQ parameters (with default values) as their arguments
Added support for multi-threading to XML daily loader
Added support of multi-threading to the otq_query_loader_daily.exe when loading into the accelerator db
Added support for CME/EBS FIX collection
RDS to collect host resource usage statistics
Reference data can be provided via user-supplied query
Machine Learning EPs are supported in CEP mode
Added ability to call SQL query using cursor interface to all languages
Support file URLs in READ_FROM_PARQUET EP
Support HDFS files in CSV_FILE_LISTING and READ_FROM_PARQUET EPs
OneTick AM: Add ability to configure Storage through AM Manager API
OneTick AM: Implement API for client-side use