Download for free today
OneTick Cloud
Transition Market Data to the Cloud
Having a cleansed, normalized, and fully-managed tick data and analytics service based in the cloud can save your company time and money, allowing you to focus on your business strategy and value-adds.
Why move Market Data Analytics to the Cloud?
The Enabler: Data As A Service
OneTick Cloud Demo
Case Study: Finding 1000% Performance Improvement for Algo Analytics Jefferies -
AWS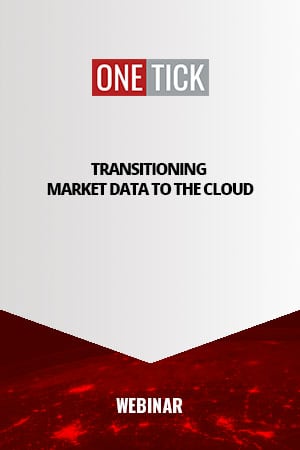 Why move Market Data Analytics to the Cloud?
Volatile Message Rates and Storage Requirement
Acceptable Latency Metrics
Outsourcing Data Administration and Operations
Strategy Development, Lower Cost of Discovery
On Demand Model for High-Performance Analytics
Why Is Data As A Service an Enabler For Cloud Transition?
Management of Feeds, File Transfers, and QA
Time Series Data with micr/nano Matching Engine Timestamps
Trade and Quote Condition Codes
Timely and Accurate Reference Data
Cumulative Corporate Actions Adjustment
Venue Consolidation
What are you waiting for?
Just enter your email address below and this can be all yours.