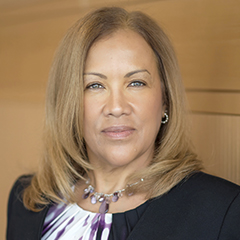 Brenda Gill
Chief Compliance officer
Brenda L. Gill joined OneMarketData in 2021 as Deputy General Counsel and was promoted to CCO in 2022. In her role as CCO, she designs strategies and programs for compliance with data privacy regulations, like GDPR, including other relevant compliance regimes applicable to OMD's business. She also continues to serve as Deputy General Counsel negotiating software and data deals. Brenda has over 27 years of business and legal experience, having worked in both large and small corporate law departments as a trusted in-house legal and business advisor. She has a practical and pragmatic approach to lawyering that explores ways to solve complex challenges with strategic simplicity.
Prior to joining OMD, she held leadership legal positions with three mid-sized private technology companies. Prior thereto, Brenda was a Corporate/Technology Partner at BurgherGray, a corporate boutique law firm where she created the firm's Technology and Intellectual Property Practice Group. Prior to joining BurgherGray, Gill was employed by RGP, a global business consulting firm, where she served as a National Business Development Director structuring consulting deals. She also worked at Thomson Reuters for almost 7 years in both legal and business roles. Prior to Thomson Reuters, she served as Assistant General Counsel at Horizon Healthcare Services focusing on technology and IP licensing deals. Brenda began her legal career as a corporate and M&A associate at private law firms with her longest stint in the NY office of Sidley Austin a top 20 global law firm.
Brenda graduated from Fordham Law School and currently serves as VP of the Executive Committee of the Fordham Law School Alumni Association and was the Founder (and past Chair) of Fordham's Alumni Attorneys of Color affinity group. She is also a published author and loves to travel internationally.