LEARN FROM WALL STREET EXPERTS
THE ONETICK RESEARCH HOSTS WEBINARS ON LEADING INDUSTRY TRENDS AND TECHNOLOGY.
Proprietary traders, hedge funds and investment banks can leverage the OneTick webinars to build their foundational knowledge and keep current on the latest research.
Product Update October 2022
This webinar is designed both for existing customers and those interested in deploying tick analytics at scale for trading and surveillance analytics.

In the webinar our speaker, OneTick's Peter Simpson, reviews release 1.23 of the OneTick Platform and how to access release notes and training videos through our new OneTick Academy resource.
Speakers:
- Peter Simpson, OneTick Product Owner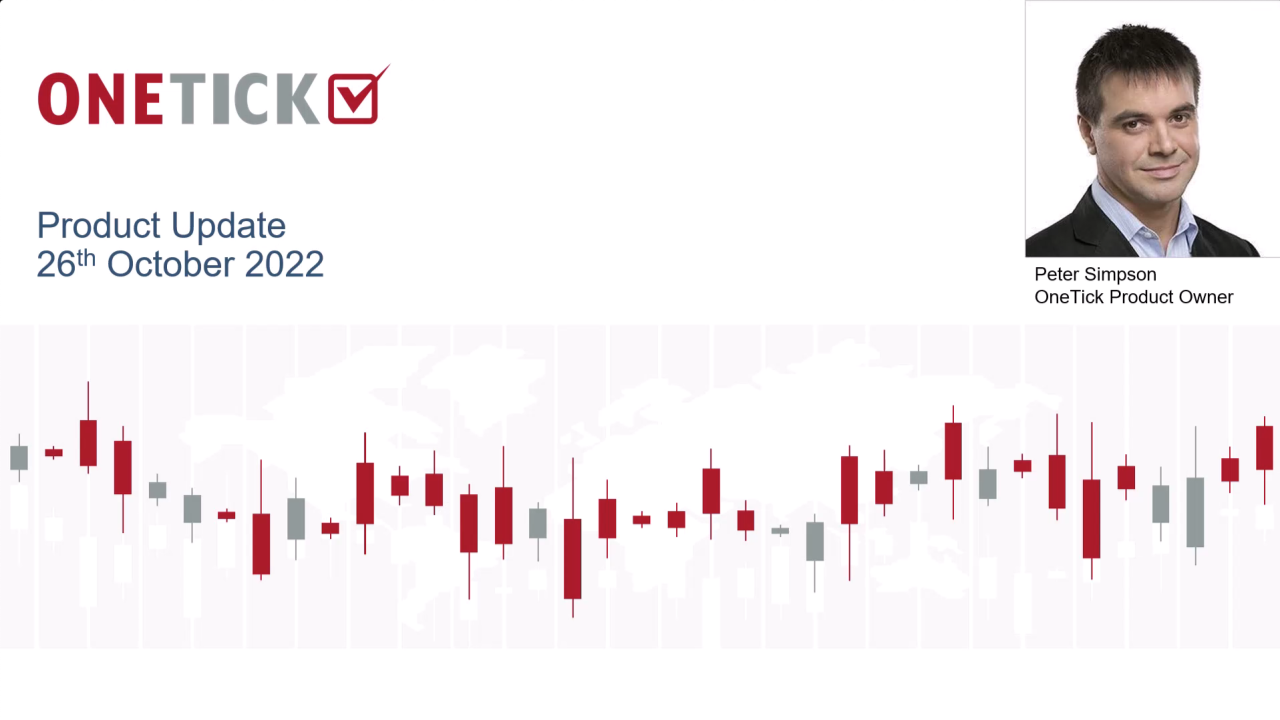 Machine Learning and Analytics
In this webinar, the OneTick team provides an overview of machine learning use cases. We review our pandas-like API that makes working with market data a breeze while being scalable, parallelizable, and extremely performant. We also discuss the MLOps architecture that provides experiment tracking, scalable model training, and model serving. Finally, our team describes our data science framework for working with market data.
Speakers:
- Victor Naroditskiy, Head of Regulatory Solutions Engineering
- Aleksei Nefedov, BestEx/TCA Team Lead
- Aleksander Serechenko, Senior ML / MLOps Engineer
- Oleg Testov, Lead Data Analyst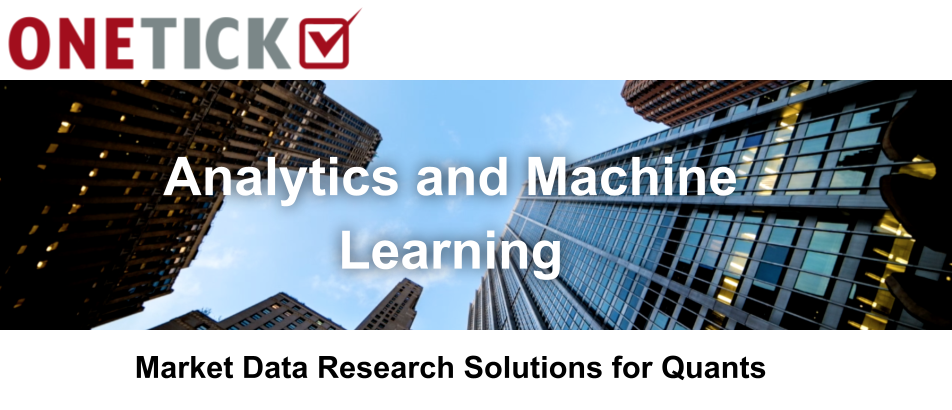 OneTick Today
In this webinar, the OneTick team provides an update on the company, customers, and platform. Also included are demos of pre-built solutions and examples of how to rapidly build applications and connect the wide range of data sources available from OneMarket Data.
Speakers:
- Dermot Harriss, SVP Regulatory Solutions
- Maria Belianina, SVP, Client Services
- Peter Simpson, Consultant
- Victor Naroditskiy, Regulatory Solutions Development

Best Practices for Analytics in Crypto Markets
Watch to learn about the latest developments in the Crypto Markets from Matt Hougan, CIO of Bitwise plus how to use OneTick to load and run analytics on Crypto Market Data from OneTick team members, Peter Simpson and Phillip Perrault.
Speakers:
- Jeff Banker - SVP, Market Development
- Matt Hougan - Chief Investment Officer of Bitwise Asset Management
- Phillip Perrault - Senior Pre-Sales Engineer
- Peter Simpson - OneTick Consultant

OneTick Webinar,
Upgrade Your Trade Surveillance To Handle Complex Regulatory Regimes
In this webinar, learn more about the practical challenges and solutions involved in upgrading your trade surveillance to handle massive spikes in volume and volatility.
Speakers:
- Dermot Harriss, SVP, Regulatory Solutions
- Peter Simpson, Consultant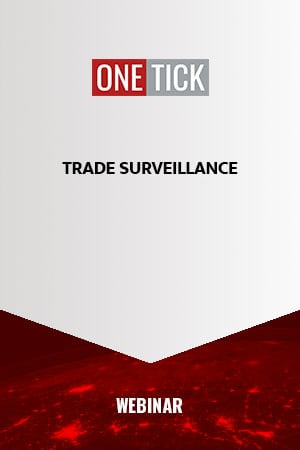 OneTick Surveillance - A Day in the Life of an Alert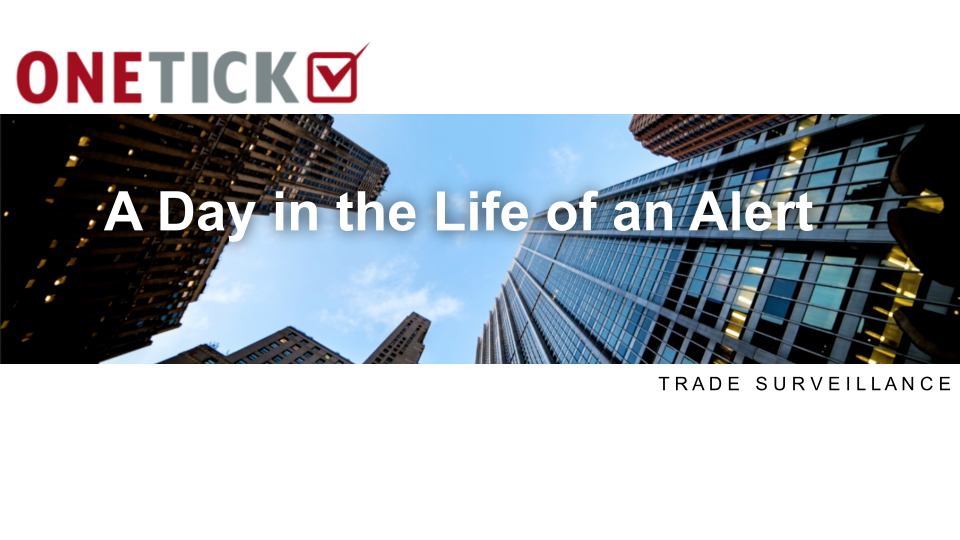 OneTick Webinar, Point In Time TCA API
In this webinar you will learn how constantly changing market conditions demand comprehensive and up-to-date TCA data, and how OneTick Cloud's "Point in Time TCA API" will help you with these new challenges.
Speakers
- Louis Lovas, Director of Solutions, OMD
- Jeff Banker, SVP, Market Development, OMD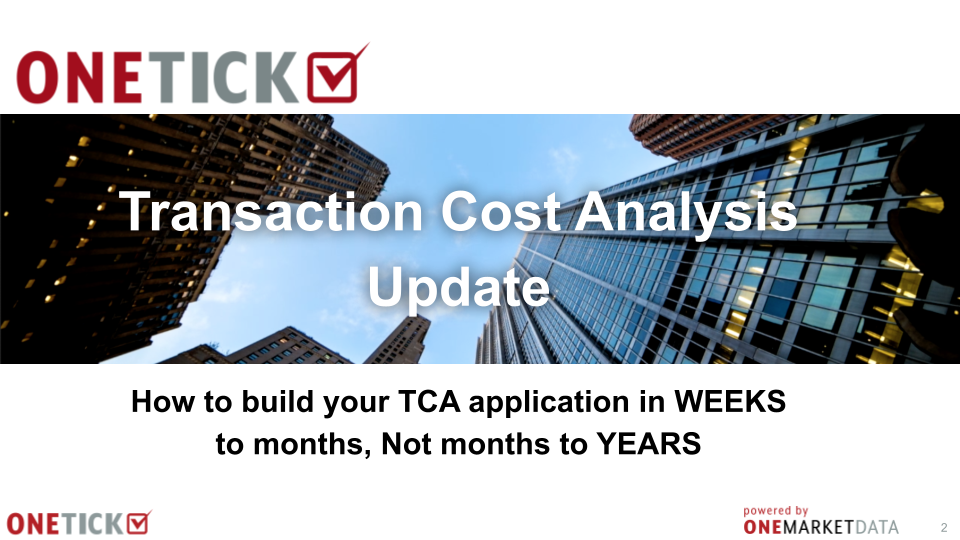 OneTick Webinar, Cloud
In this webinar, we discuss the benefits of a cloud-based market service system and how to acquire high-quality, normalized and cleansed data. The discussion will also include a demo of OneTick's historical and real-time Market Data playback services.
SPEAKERS
- Shyamkiran Rao, SVP, Jefferies
- Louis Lovas, Director of Solutions, OMD
- Jeff Banker, SVP, Market Development, OMD